PREP Water Based Tradesman's Bog

A two-part gap filler and binder for builders and tradesmen that is a safe alternative to the toxic solvent and styrene-based fillers and bogs on the market.
Features & Benefits
Environmentally friendly and non-hazardous for safe handling and easy transport
Easy to mix, spread on rough and smooth substrates immediately
Rapidly sets in 15 mins (faster in warm weather) with minimal shrinkage
Curing time approximately 60 minutes • Long shelf life when firmly sealed after each use
Once cured it may be chiselled, filed, sawn, planed and sanded into shape
Can also be nailed, drilled, screwed, glued and painted
Highly recommended for waterproofing as gap filler for bathroom renovations and other wet area applications where tiling or painting is required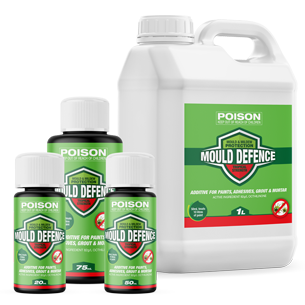 A powerful long-lasting mould inhibitor (when added to an existing product e.g. paint) which inhibits the unsightly growth of mould on to the surface it is applied to. Mould Defence forms an enduring film that will not change the look or feel of the substrate to which it is applied.
PROUDLY 100%

Australian Owned

Australian Operated

Australian Company