A Tradeline compound, specially formulated for the first and second coat in a three coat plasterboard jointing system. Joints may be finished with any PLASTERMATE topping or all-purpose compound and sanded smooth prior to decoration. PLASTERMATE Base Coats help to create a superior strength joint in conjunction with jointing tape and provide excellent tape adhesion.
Features & Benefits
Trade quality
Lightweight fast drying compound
Easily sanded
Superior adhesion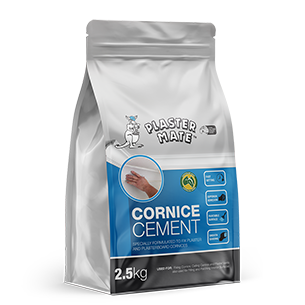 A Tradeline compound specially formulated for fixing cornices to Plasterboard wall and ceilings. With a high bond strength can also be used for fixing decorative roses and fibrous plaster centres. Can also be used as a cost effective high tack, low slump, broad wall filler.
PROUDLY 100%

Australian Owned

Australian Operated

Australian Company