Outdoor Timber Polish is made from natural plant oils & fragrance oils. Covers scratches, removes stains & preserves wood.
Uses
• Nourishes, restores and protects outdoor furniture and woodwork.
• Specifically formulated to suit Australian and New Zealand conditions.
Apply with:
Mist on, wipe in with rag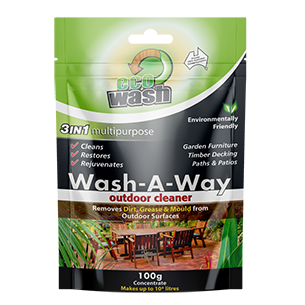 Wash-A-Way Outdoor Cleaner (100g Concentrate) is a salt based cleaner and soaker with accelerants to enhance the brightening action and assist in the removal of stains. Its anti-bacterial properties make it an ideal cleaner for grimy, mouldy and weathered outdoor timber and surfaces.
PROUDLY 100%

Australian Owned

Australian Operated

Australian Company