A blend of nut and citrus oils specially formulated to create a drying oil to maintain and rejuvenate wooden items that come into regular contact with food or water which can cause the timber to swell and dry out. Simple wipe on and wipe off application to make timber look & feel nourished.
Uses
Maintain wood items that come in contact with food & water.
Ideal for wooden chopping boards, serving bowls and utensils.
Apply with:
Simple wipe on and wipe off with a rag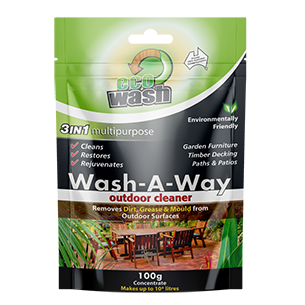 Wash-A-Way Outdoor Cleaner (100g Concentrate) is a salt based cleaner and soaker with accelerants to enhance the brightening action and assist in the removal of stains. Its anti-bacterial properties make it an ideal cleaner for grimy, mouldy and weathered outdoor timber and surfaces.
PROUDLY 100%

Australian Owned

Australian Operated

Australian Company