General Purpose Builders Cement
Ideal for a wide range of Concrete, Mortar and Grout applications and repair jobs around the home and building site.
Features & Benefits
General Purpose Builders Cement can be used as a cementitious binder in a broad range of applications including:
Conncrete
Mortars
Renders
Grouts
Where specific properties such as rapid setting or high early strength are required a more specialised cement should be considered.
Handling, Storage & Safety
The 'shelf life' of General Purpose Builders Cement products is dependent on the storage conditions. It is necessary for bagged General Purpose Builders Cement to be stored in dry conditions and protected from rain, dew or any other moisture source. Bagged cement that has hardened or is lumpy as a result of exposure to moisture should not be used.
General Purpose Builders Cement products are highly alkaline materials and are significantly affected by exposure to water.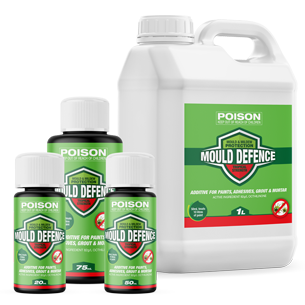 A powerful long-lasting mould inhibitor (when added to an existing product e.g. paint) which inhibits the unsightly growth of mould on to the surface it is applied to. Mould Defence forms an enduring film that will not change the look or feel of the substrate to which it is applied.
PROUDLY 100%

Australian Owned

Australian Operated

Australian Company