Pre-paint mould destroyer and surface cleaner. Suitable for all interior and exterior surfaces around the home. Easy application formula, simply spray, brush or wipe on.
Features & Benefits
Kill and remove mould and mildew, with one easy wipe of the powerful antifungal Mould Destroyer before you paint.
Mould Destroyer is a low toxicity, biodegradable, highly effective mould and mildew killer.It contains low toxicity ingredients with high antimicrobial activity, is non-corrosive and does not contain dangerous formaldehyde or ammonia. Mould Destroyer is recommended as a surface preparation for pre-decoration as it eliminates mould and mildew which can occuron all types of surfaces, including masonry, brick, wood, plaster and many other materials.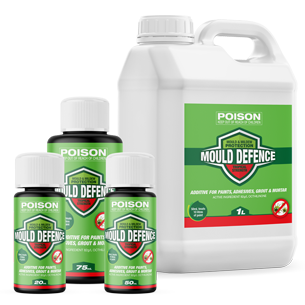 A powerful long-lasting mould inhibitor (when added to an existing product e.g. paint) which inhibits the unsightly growth of mould on to the surface it is applied to. Mould Defence forms an enduring film that will not change the look or feel of the substrate to which it is applied.
PROUDLY 100%

Australian Owned

Australian Operated

Australian Company