Ideal for craft, PREP Plaster of Paris can be used for sculpting, casting and many other applications.
Once set, it can be sanded, drilled, and chiselled to required shape and size, then painted and kiln-dried.
Features & Benefits
Environmentally friendly
Dries white
Dries fast
Very high weather resistance
Unique properties makes this product easy to shape and sand
Ideal for schools and craft classes or just having fun!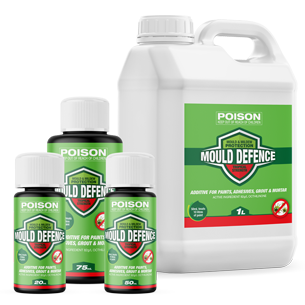 A powerful long-lasting mould inhibitor (when added to an existing product e.g. paint) which inhibits the unsightly growth of mould on to the surface it is applied to. Mould Defence forms an enduring film that will not change the look or feel of the substrate to which it is applied.
PROUDLY 100%

Australian Owned

Australian Operated

Australian Company