Multi-Purpose Filler – RTU
A ready-mixed heavy duty bonded filler for filling holes internally and externally. PREP Multi-Purpose Filler can be used to fill holes in concrete, cement, brickwork, timber and plasterboard, as well as many other porous substrates.
Features & Benefits
Easy to use
Can be tinted
Ready-mixed
Interior & exterior
Environmentally friendly
Heavy duty bonded filler
Ideal for floors, walls, ceilings, roofs
Available in:
200g
500g
1kg
2kg
4kg
10kg on special order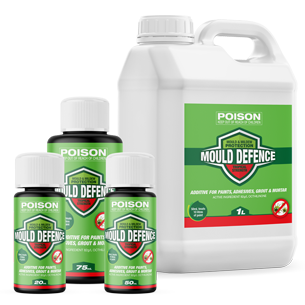 A powerful long-lasting mould inhibitor (when added to an existing product e.g. paint) which inhibits the unsightly growth of mould on to the surface it is applied to. Mould Defence forms an enduring film that will not change the look or feel of the substrate to which it is applied.
PROUDLY 100%

Australian Owned

Australian Operated

Australian Company