Suitable for a multitude of awkward repair problems both above and below water. No need to drain precious water from swimming pools, water tanks, dams, ponds etc. Just mix with a little water and knead into a workable putty, then it's ready to use.
Features & Benefits
Environmentally friendly
Easy to mix, easy to use
Bonds to concrete, masonry, wood, steel and fibreglass
For use above and underwater
Bonds tiles underwater
Adheres to most solid services
Compressive strength of 2000 psi
Sets in 5 minutes underwater
Safe for drinking water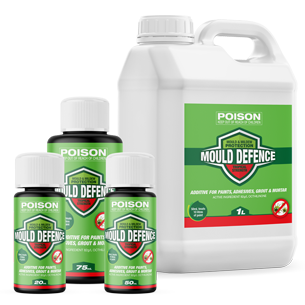 A powerful long-lasting mould inhibitor (when added to an existing product e.g. paint) which inhibits the unsightly growth of mould on to the surface it is applied to. Mould Defence forms an enduring film that will not change the look or feel of the substrate to which it is applied.
PROUDLY 100%

Australian Owned

Australian Operated

Australian Company